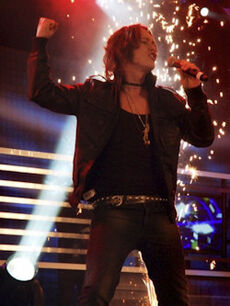 Per Fredrik Pellek Åsly (born December 21, 1986), known as PelleK, is a Norwegian actor, composer and singer, best known in the rock and metal scene for his orals range which spans between four octaves. On YouTube the artist is the number one most subscribed musician from Norway, and his songs and music videos are played frequently in metal programming on TV and radio (predominantly in Europe, Japan and South America).
PelleK's unique covers are often met with praise from the songs composers which has been the biggest catalyst to the young singers' rise to fame. An example of this is his video "All Power Rangers Theme Songs" being such a hit with Haim Saban owner of the Power Rangers brand (Saban International), that they bought the rights to the video and re-released it worldwide as an official Power Rangers EP-album.
The song can also be heard in several official Power Rangers promotional videos. Finnish symphonic metal band Nightwish and their label Nuclear Blast GmB have also embraced the artist's vocal performances by sharing his videos with millions of fans online, and many of the biggest names in power metal joined PelleK as guest singers on his first release in 2012. PelleK's music is melodic and upbeat, usually backed up by an orchestra, and with emphasis on the vocal performance.
In september 2013 PelleK went on a tour through the U.S.A and Europe with a live band, playing a total of 16 concerts in 11 countries. After 4 years as a singer PelleK has played over 100 live shows, released 4 albums with original material, 16 albums with cover songs and is, as of november 2014 the most subscribed YouTube video-maker from Norway. As of september 2014 he is also in the top 500 fastest growing channels in the world, on YouTube .
Discography
Edit
Bag of Tricks (2012)
Ocean of Opportunity (2013)
Christmas with PelleK (2013)
Cloud Dancers (2014)
External links
Edit