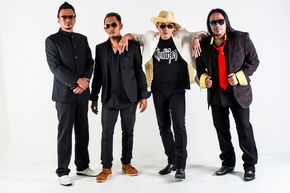 Khalifah is a malasian rock band. Was formed in 2006 after singer and guitarist Harry Yabang who created the song "love laila", has retreated from the group Nickelback due to disagreements between them. Members who form a group when it is Yabang Khalifah (lead singer), Harry (main guitar), Moy (bass guitar) and Tony (drums). The singer, Yabang afford to berqhasidah has brought his skills to control voice steady love for songs such as Laila, Laila Who, Kita Kawan. Khalifah is one other group of others where they can bring a different rhythm tracks. Although it has been five years Yabang withdraw from Nickelback and establish the Caliphate group, still many people who associate it with the group.
Discography
Album Studio
Kelahiran (2007)
Cintaku Dewi Kamala (2009)
Ni Hao Ma (2010)
Cinta Dan Sayang (2013)
Cerita Kita (2016)
Single
External Links
Ad blocker interference detected!
Wikia is a free-to-use site that makes money from advertising. We have a modified experience for viewers using ad blockers

Wikia is not accessible if you've made further modifications. Remove the custom ad blocker rule(s) and the page will load as expected.